Newly released estimates from research firm IDC put Apple in fourth place among the world's top smartphone vendors after the tech giant reported a year-over-year decline in iPhone revenue on Thursday.
According to data gleaned from IDC's Worldwide Quarterly Mobile Phone Tracker, Apple shipped an estimated 41.6 million iPhones in the third calendar quarter of 2020. That figure is down 10.6% year-over-year and gave the company an 11.8% share of the market, dropping it from third to fourth place.
"This drop was expected and is mainly due to the delay in the launch of the new iPhone 12 series, which is usually in the third quarter," the report said. "Regardless, the iPhone 11 series did exceptionally well, contributing the majority of Apple's volume, followed by the SE device."
Samsung regained its crown as the world's top smartphone manufacturer with 80.4 million units shipped and a 22.7% share of the market. Huawei came in second with 51.9 million smartphones shipped and a 14.7% marketshare, down 22% year-over-year.
Xiaomi replaced Apple in third with 46.5 million shipments, up a massive 42% on the year.
Vivo rounded out the top five, shipping 31.5 million handsets to take an 8.9% share of the market.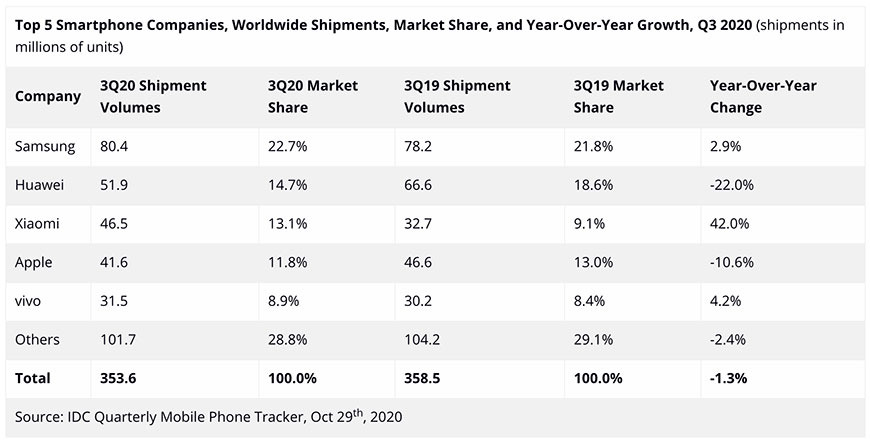 Overall, phone makers shipped an estimated 353.6 million smartphones in the third quarter, down 1.3% from the same time last year. The result is better than IDC's original forecast, which predicted a 9% market contraction due to the coronavirus pandemic.
It should be noted that firms like IDC do not have insight into Apple's supply or retail chains and provide estimates based on independent research. The methodology, and more importantly results, of market research firms have been brought into question in the past, with Apple executives dismissing the data as largely incorrect.
Apple reported earnings for its fourth fiscal quarter on Thursday, noting a 21% decline in iPhone revenue. Part of the shortfall was blamed on a late start to iPhone 12 sales.
Despite a dip in iPhone income, Apple posted record-breaking earnings of $64.7 billion on stronger than expected Mac and Services revenue. Aside from iPhone, all of the company's hardware segments grew during the three-month period, fueled by work from home and remote learning trends.